Serpin Pharma, a privately held biotech company with research facilities in Innovation Park, Manassas, is the second company to graduate from the Prince William Science Accelerator and move within a mile — quadrupling the company's footprint while staying in the bioscience hub.
"Our work has only increased in the last year, and you can't conduct lab research from home," said Dr. Cohava Gelber, founder and chief executive officer at Serpin Pharma. "We moved from 1000 square feet to 6000 square feet while expanding our research during the pandemic and hiring new positions."
Established in 2011, Serpin Pharma's mission is to develop drugs to treat a broad range of inflammatory, autoimmune and infectious diseases. Because COVID-19 causes inflammation, there are implications for the company's products in the fight against coronavirus. Specifically, SP16, a drug that received FDA investigational new drug approval in June 2020, shows promise and has passed Phase 1, indicating safety in human trials. The company is conducting Phase 2A clinical trials with acute myocardial infarction (AMI or heart attack) patients.
The company has been awarded several Small Business Innovation Research (SBIR) grants from the National Institutes of Health and the Commonwealth of Virginia, and collaborated with George Mason University's Science and Technology campus, where Dr. Gelber is on the faculty.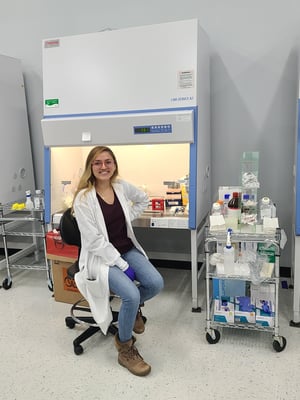 "It was absolutely key to stay close to George Mason University, the Science Accelerator, and this important mile of Innovation Park that has been a huge part of our growth," said Halle Raisigel, director of corporate affairs and operations at Serpin Pharma. "Our talent pool comes directly from the university and that close proximity feeds both ways with researchers who want to pursue additional education."
After joining the Science Accelerator in 2016, the company now resides a few hundred yards away at 9501 Discovery Boulevard, Suite 120, in Innovation Park, Manassas.
"I love the Prince William County community," said Gelber. "Our business community is collaborative and our local government supports our growth. We love being able to offer employees the options to reach restaurants, parks, and trails."