The Prince William County Department of Economic Development (PWCDED), in partnership with Holladay Properties, held a grand opening and ribbon-cutting ceremony of the Northern Virginia Bioscience Center on Tuesday, March 29.  The celebration commemorated the completion of 30,000 square feet of new commercial wet lab space reflecting more than $17.3 million in capital investment.

"The life science and biotechnology community has really solidified its role in Prince William County. We have over 100 companies, more than 1,600 employees and a 31 percent growth rate since 2014," said Ann Wheeler, Chair, Prince William Board of County Supervisors.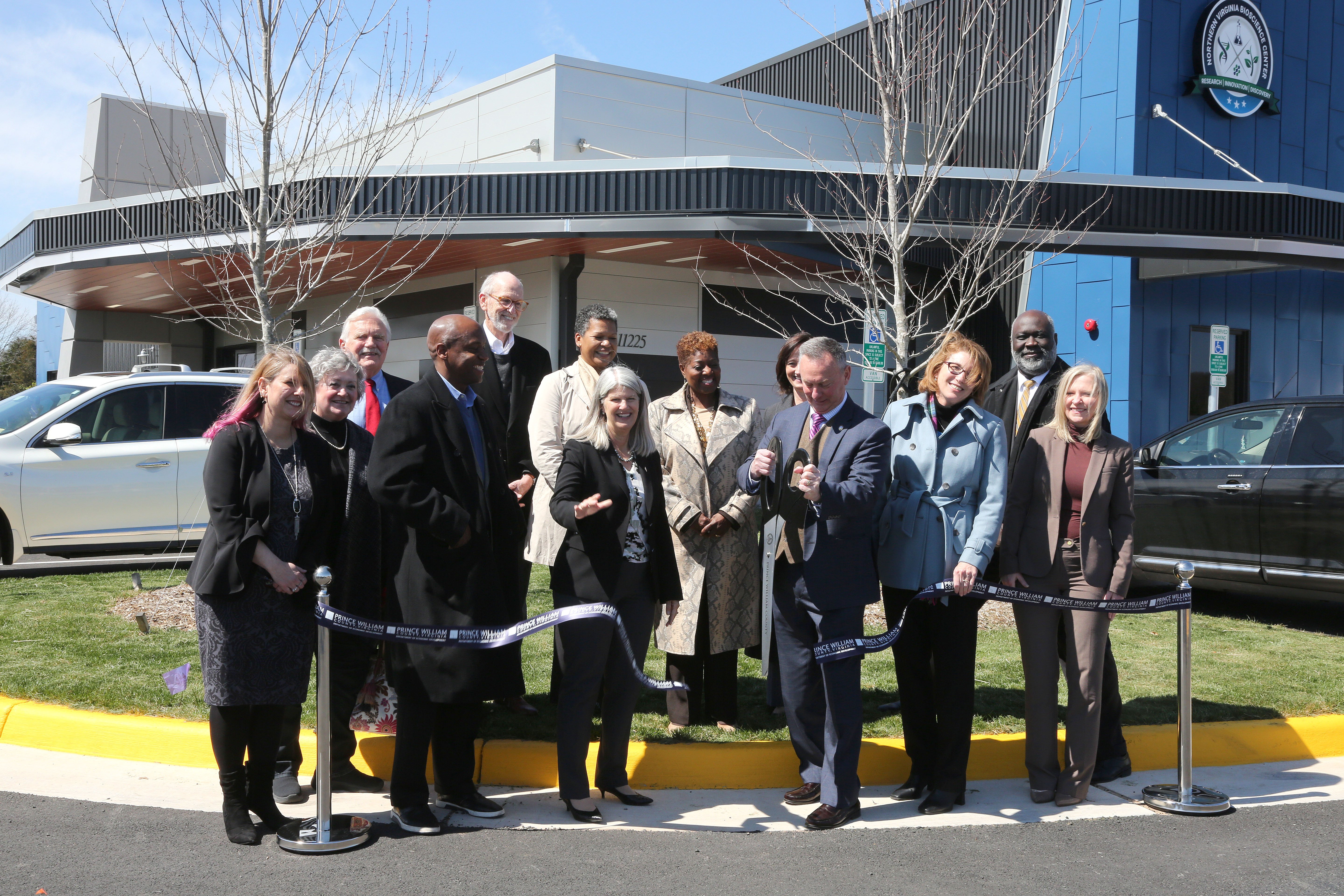 "This very building elevates the status of Innovation Park as an innovative technology hub, a great community for our existing workforce."

With this public-private partnership, Prince William County continues to promote life science infrastructure and the larger biotech industry. This center will support collaboration and cooperation in research between universities, companies, and government facilities.

"We are building a workforce for the future. I am thrilled to be here as we take the steps necessary to build the next stages of our community together," said Christina Winn, executive director, PWCDED. "We had to figure out how to make this work, and there have many hurdles. We've all been through so much with the pandemic. It's a testament that when we all come together, we can make things happen."

The building, with cutting-edge equipment and collaborative spaces, is located at 11225 Assett Loop, Manassas in Innovation Park, across the street from the Prince William Science Accelerator and near the George Mason University Science and Technology campus.

"This vision of innovation has been around for well over 25 years, when the county made a major investment in acquiring the land," said Austin Haynes, senior vice president, Holladay Properties. "We've worked diligently over the years to get there, and a lot of private industry is here now."
Prince William County invested $755,000 in the project, including
$250,000 in Water and Sewer Credits,
$350,000 in Economic Development Opportunity Fund, and
$155,000 Innovation Enterprise soil remediation funds.
Prince William County signed a master lease for 8,000 square feet of the facility to help meet the bank lending criteria for pre-leased space. This master lease burns off as life science companies lease space.
PWCDED was also awarded a
GO Virginia $500,000 grant
toward upgraded equipment.
During the ceremony, Haynes surprised PWCDED Deputy Director Tom Flynn by dedicating the collaborative conference room in Flynn's honor.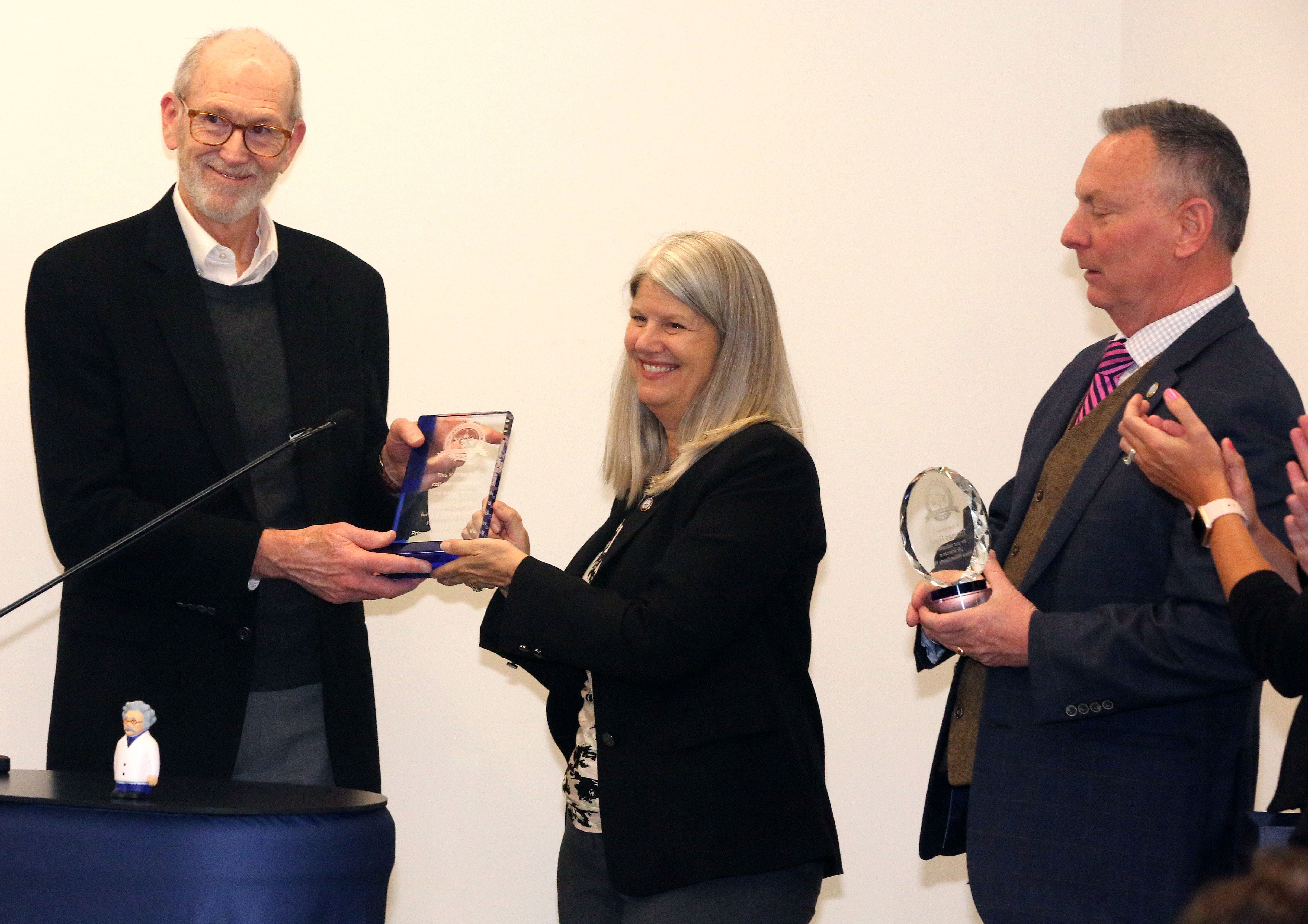 Upon receiving the award, Flynn thanked the entire team at Holladay Properties, the Board of County Supervisors, and the Prince William County Departments of Development Services and Transportation.

Four companies have already moved from the Prince William County Science Accelerator and into the NOVA Bioscience Center already:
ISOThrive
iQ Genetix
SYSTAAQ Diagnostics
Virongy Biosciences
"When you come into any sort of lab, especially a new one, it's like a breath of fresh air," said Claire Blanchard, graduate research assistant, SYSTAAQ Diagnostics. "We have a bright future and so do all the companies here today."
With the sustained growth of companies, several speakers gave praise for the shared vision of connecting life science companies with what they need at the time they need it.

"[Previous boards] chose to invest in the science accelerator, which is a neighbor to this building," said Jeanine Lawson, Brentsville District Supervisor. "Because they made that decision to invest back then and the success of our science accelerator, now we have this great facility. We have researchers that are accelerating out of that building and now they have a new home to come to just down the street. I do believe that Innovation Park is really on the map and we can truly compete [in the region]."

Attendees included Supervisors Andrea Bailey and Victor Angry; Holladay Properties Chief Financial Officer Laura Cottingham; and more than 100 other event attendees including George Mason University faculty and researchers, biotech business owners, and many more. In addition to the ribbon-cutting ceremony, lunch was offered by Holladay Partners followed by executive tours of tenants' lab spaces.

Join us for our next event in Innovation Park: George Mason University Village and Town Center Groundbreaking on Friday, April 22.