Donya Dugan had her entire plan worked out. After retiring from the U.S. Army, she would start a new civilian job that would allow her transition time to get her own business on its feet. With that new job, Dugan planned to launch a Stemtree franchise to inspire children of all ages to pursue science, technology, engineering, and mathematics.

But then the COVID-19 pandemic turned everything upside down. The civilian company that Dugan had planned to work for had a hiring freeze. Without that job, she couldn't afford to get her business started.
Instead, she approached the Army about going back in, and they offered her a promotion so she could get her business started. She opened her Stemtree at Dillingham Square in Lake Ridge in October 2020.
"We have had some challenges—no doubt about it," says Dugan. "But we have learned so much about what we can handle."

Stemtree is more than an enrichment program; it is a self-paced and customized program. By providing individual attention, Stemtree allows for a high level of quality interaction between teachers and students. This approach promotes monitoring of students' mastery of skills at every level while helping them become confident and capable learners.
Through its flexible scheduling and one-on-one instruction, Stemtree offers students hands-on activities and experiments to learn science and engineering processes while having fun doing it. Students also come to Stemtree for homework support and exam prep.
Dugan wanted to start a business that would work for her family and at the same time put her science background to good use. She chose a location that could draw from several nearby schools, including six Prince William County public schools:
Old Bridge Elementary
Lake Ridge Elementary
Antietam Elementary
Springwoods Elementary
Westridge Elementary
Lake Ridge Middle School
"We offer before and after school hours, so it's great when we can arrange transportation with the different schools in the area," says Dugan. "It makes it easy for the students and the parents."
When they opened, students were still learning remotely, so they offered virtual classes to a core group of students every day.
"Even though we advertised on Facebook and Google, most of our early students found us because they live nearby. Word of mouth started to spread, so we had a successful first summer camp last year," says Dugan. "We were only allowed to have 50 percent capacity, but we filled every spot we had."

Stemtree has a student-to-teacher ratio of 4:1 or 6:1, depending on the grade levels of the students. About 80 percent of their students are in elementary school, but they do have some middle school students as well.

Dugan was determined to continue paying her team, but after their first summer camp, things got rough. September 2021 to February 2022 was a particularly tough time.

After applying for more than 30 grants since opening, they were discouraged when they were not awarded any.
"Everyone was very risk averse. One response we received told us that 'you should have been prepared for COVID,'" says Dugan, who shook her head remembering. "I was preparing to ask for a rent deferment when we received word that we had received the Restore Retail grant from Prince William County."
Launched in December 2021 as part of ARPA funding, the Restore Retail grant program assists eligible businesses with grants up to $25,000 based on a business' square footage.

As of April 2022, $4.04 Million in Retail grants have been issued to 265 business recipients occupying over 850,000 square feet of commercial space in Prince William County.

Rent deferment can lead to unsustainable debt for small businesses, and the Restore Retail grant program was designed to assist small businesses struggling to catch up on deferred rent.
The Restore Retail grant was just enough to keep Stemtree current with their rent, so that could carry them through to their spring break camps. Now they are on a much more even footing. They can be at full capacity, and the students are signing up for summer once again.

"As we continue to grow, staffing issues can be a problem because we are very picky about who we hire," says Dugan. "They need to have studied a STEM major. We are not a daycare. They have to be able to tutor AP Physics, Algebra, or Calculus. Our people have to really know their stuff!"
One of Dugan's goals when she started her own business was to be able to involve her whole family. Her veteran husband became Stemtree's chief financial officer, and their three children (ages 11, 9, and 5) attend and participate in the programs as well.

As Stemtree continues to carve out its place in the Lake Ridge community, Dugan looks forward to growing more. The team is always open to hosting birthday parties, working with local scout troops, and providing another place for homeschooled students to dive deeper into their education.
---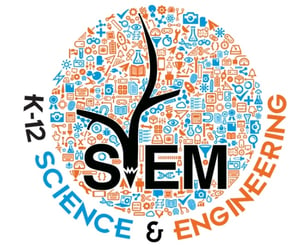 https://stemtree.com/lakeridge
Located at 12363 Dillingham Square Lake Ridge, VA 22192