A visit to Veterans Growing America in Stonebridge Potomac Town Center in Woodbridge quickly reveals a different kind of retail experience. The positive energy and the sense of camaraderie among the merchants is quickly apparent.
Then at the top of every hour, one of the vendors will speak briefly about the journey and their business, and they present a prize to be raffled. When you buy something from any of the vendors, you get a raffle ticket, and all buyers are entered into a raffle. Then a raffle ticket is drawn, and the winner walks away with the prize package as well as the good wishes of the vendors there.
Veterans Growing America provides a forum for veteran and military spouses to showcase and grow their businesses. They partner with local, state, and federal veteran organizations to increase their brand awareness. They conduct local events and marketing programs to increase engagement with the veteran business community. They are a national movement that helps veteran businesses get the resources and support needed to succeed.
Donnell Johns, Sr., owner and veteran, is the CEO of Veterans Growing America. He retired from the U.S. Army as a Command Sergeant Major in 2019 and opened his own business leadership consulting firm. Through that process and experience, he learned that there were many organizations providing education for veterans to start their own businesses, but fewer available to help connect veterans with customers.
"I realized that there were organizations out there to train you to write a business plan and start a business, but not to actually execute the business plan," says Johns. "It's so important for veterans to make the transition from military to civilian life, and I wanted to help veterans with the resources to do that."
Johns conceived the idea of a pop-up opportunity for veterans to showcase their products and services in 2019, and so the seeds for Veterans Growing America were planted. Back then, Johns wanted to hold the event at Stonebridge Potomac Town Center, but another company had the contract for the space that he needed.
Drawing on his recruiter and human resources background, Johns planned the first event in December 2019, and 17 veteran-owned, veteran spouse-owned, or active duty-owned businesses filled the space. He left no stone unturned reaching out to politicians, taking out ads in the newspaper, leveraging social media, and anything else he could think of to encourage turnout.
"The day of the event the weather was awful," says Johns. "It was snowing and raining, and we thought it was going to be a bust, but nearly 900 people showed up to support veteran-owned businesses. It blew my mind!"
The success of that event spurred plans for another even-bigger pop-up. It was going to be held at the Dale City Fire Department, and 60 businesses signed up. The event was scheduled for March 2020. But then COVID-19 hit, and due to the lockdowns, the event was canceled.
"We had to adapt and overcome," says Johns. "We shifted to an online business pop-up. We used a platform that allowed each business to create an online storefront with their logo and website. We had 30 vendors participate. We were ecstatic with the results."
VGA became involved with the Rosie Network, which provides military family entrepreneurs access to business support and resources, online entrepreneurial training, mentoring, and more. The network helped VGA set up veteran expos at Army and Air Force exchanges.
They received great deal of exposure when race car driver Collin Garrett's 11/11 project showcased the VGA logo and name on his NASCAR in the fall of 2021.
"Seeing our race car and the driver sign autographs in Martinsville in October 2021 was a huge thrill," says Johns. "It really helped our credibility."
As COVID restrictions eased, VGA held several expo events between July and December 2022. The expos were held at several different military bases and averaged 20 local vendors at each event.
Through all of this, Johns never forgot about his original plan of holding an event at Stonebridge. Three years after his initial meeting, he returned to show that he now had a solid 20 to 30 vendors and that they had a proven track record for pulling in the customers needed to make an event a success.
Stonebridge still did not have the pop-up outdoor space available, but they were impressed with how Johns and his team had grown VGA, so they offered them a different opportunity—a permanent brick-and-mortar location in Stonebridge.
"We still run the store like a pop-up," says Johns. "We are open on Fridays, Saturdays, and Sundays only, but from our first opening in June 2022, we have been welcomed by the community, and sales have been strong. It's a win-win-win situation: Customers get to support veteran-owned businesses, vendors get the sales they need to continue their businesses, and VGA gets to fulfill its mission of helping veterans find customers for their businesses."
The businesses in VGA pay rent for their booth space, but they keep 100 percent of their sales. VGA continually seeks sponsors and volunteers to support their efforts.
The vision of VGA is to be the premier events and technology company that supports the growth and development of veteran and military spouses while attracting Americans to shop veteran first.
"We adhere to three principles: passion, purpose, and prosperity. We wanted to make a positive difference in veterans' lives. We hear a lot about veterans in terms of PTSD, suicide, and homelessness, but we don't hear enough about how many of them go on to open small businesses, become employers, and contribute to their communities."
---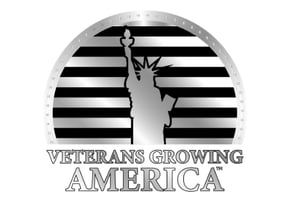 https://veteransgrowingamerica.com

Located in the Stonebridge Potomac Town Center
15001 Potomac Town Plaza #130
Woodbridge, VA 22191