The pain of paperwork is real for anyone who has seen a specialist or had surgery requiring multiple follow-up appointments. For both patient and provider, the manual repetitive processes requiring gathering and sharing the same information can take precious time away from real healthcare and often will involve human error.
That's why Robotic Process Automation (RPA) technology can ensure seamless data movement from provider to healthcare system to patient. This technology can easily categorize, codify, and customize data to ensure users can access and add to the data when needed.
"If this industry learned one thing during this pandemic, it is that illnesses like COVID-19 need and demand immediate information without the high stakes of human error," says Rahul Chitko, CEO of Cyret Technologies. "Right now, data is sedentary in healthcare. Patient and practitioners do a lot of waiting. We have RPA products that can move data faster for better processing, appointments, and improving the overall cycle of healthcare."
Cyret's Automation for Healthcare product was one of the first winners in the IGNITE program, a non-dilutive grant program offered by Prince William County Department of Economic Development with a $25K cash grant for early-stage companies and $50K for companies with funding.
As a global company headquartered in Manassas for more than 10 years, Cyret wants to reach the local Prince William County community, including physicians, hospitals, nursing homes, labs, radiology centers, law offices and others in the healthcare ecosystem.
Chitko emphasizes that the grant money will help the company offer exclusive discounts for any businesses within Prince William County in need of process automation and digital transformation. Visit Cyret.com to learn more.
By showing how their Automation for Healthcare product, a Software-As-Service (SaaS) solution, significantly reduces or eliminates manual, repetitive and time-intensive functions in all stages of their clients' business, they hope to show their value proposition: improved profitability for clients and better health outcomes.
"The IGNITE grant gives us an opportunity to further deepen this decade-long relationship within Prince William County," says Chiko. "Our RPA solutions are used by customers in industries like logistics, manufacturing, finance, pharmaceuticals and existing healthcare infrastructure. It's about making data more effective for better outcomes across the board."
---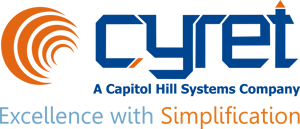 Website: https://cyret.com
Located at 8140 Ashton Avenue, Suite 210, Manassas, VA 20109