Frozen custard and ice cream are not the same. "It's all in the ingredients," says Tim Weis, owner of Campbells Frozen Custard. "To be able to call it frozen custard, egg yolks are added to the sugar, cream, and flavorings, and the result is a treat that is thicker, richer, and creamier than ice cream. Our custard is run fresh every day throughout the day, which is more labor intensive, but it's worth it to provide our customers with the ultimate taste experience."
In 2015, when an established frozen custard business near where he lived in Lake Ridge went up for sale, Weis and his wife bought the business, and became a family-owned, independently run frozen custard store. They rebranded it and quickly became a popular spot in the neighborhood.
"The name Campbell is very important to our family. My mother's maiden name was Campbell and my wife's maiden name was Campbell. My daughter's middle name is Campbell," explains Weis. "When we decided to do this, there was no doubt what the name was going to be."
Campbells Frozen Custard offers chocolate, vanilla, and two specialty flavors every day. Through social media, they share their Flavor Calendar, which was a pivotal marketing tool that helped get the word out about their business.
After years of success in the Lake Ridge location, they were ready to expand and noticed an opportunity in Stonebridge; but it took several years for everything to come together. First, they thought they lost out to an ice cream franchise, but when that did not turn out, they continued to pursue the location. They were finally ready to sign their lease, but when the COVID-19 pandemic hit, the entire expansion idea came to a standstill.
"We needed to figure out how to safely serve the great, loyal customers we had in Lake Ridge," remembered Weis. "So, we started doing deliveries, online ordering, and curbside pickup, so no one was standing in line."
The Lake Ridge location was closed for a month, and the federal PPP loans kept them afloat. Their team of scoopers are generally high school and college students, and they did not have to lay any of their team off. They applied for grants through the Prince William County Department of Economic Development, including the most recent Restore Retail grant. The last thing Weis wanted to do was go into debt or ask for a rent abatement, and these grants helped Campbells stay financially afloat.
Since launching the Restore Retail grant in December, PWCDED has helped 305 businesses with $4.58 million in one-time grants awarded. With more than $1 million in funds remaining, eligible retailers should apply before funds are depleted.
While all of this was going on, Weis and his wife kept their eye on the Stonebridge location. In 2021, they started negotiating, and signed a lease to open a seasonal version of their frozen custard shop. Then they learned how different it is to build out a location instead of taking over an existing location. And doing all of that in the aftermath of the COVID-19 restrictions complicated matters.
"It's been tough to get to this point. Supply chain issues really delayed our equipment. The timeline for ordering parts was greatly affected. Contractors couldn't get materials shipped in a timely manner, and prices jumped dramatically from where we had started. The whole process took us about a year. It wasn't supposed to take anywhere near that long."
The Stonebridge location opened its doors on June 30 and is located near the splashpad and summer patio, which is a seasonal ice-skating rink. With so many children and families playing out front, it makes a great spot for Campbells to offer their frozen custard treats.
Campbells is currently churning out delicious cups, cones, shakes, malts, banana splits, and sundaes at both their Lake Ridge and Stonebridge locations.
---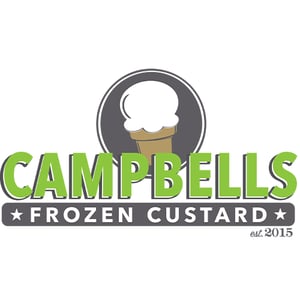 Locations:
Lake Ridge
4125 Merchant Plaza
Woodbridge, VA 22192
Stonebridge
15200 Potomac Town Plaza, Suite 105
Woodbridge, VA 22191