All businesses must find their niche, but ISOThrive's is quite tiny — a microbiome, actually. A microbiome is a community of microorganisms (such as bacteria, fungi, and viruses) that inhabit a particular environment and especially the collection of microorganisms living in or on the human body.
"Learning about the microbiome of the body gets at the essence of what it means to be a human being," says Jack Oswald, ISOThrive's CEO, CTO, and Co-Founder. "The important thing to remember is that our bodies become very sick without a healthy microbiome, so when you eat, you eat for you, and you eat for bacteria in your body."
Eight years ago, Oswald and the fellow co-founders of ISOThrive—Dr. Peter Swann and Dr. Lee Madsen—wanted to create a supplement that feeds certain bacteria in the gut to get a specific outcome for people experiencing bowel irregularity and discomfort. The ISOThrive "Prebiotic Nectar" began as a dietary supplement to help restore good gut health.
They launched their product in 2016 and hundreds of people started taking the prebiotic. Oswald and his team quickly learned that people were experiencing improvements in their regularity, particularly with relieving their constipation problems.
Yet the biggest surprise was the feedback that they started getting about people no longer having heartburn, to the extent that they no longer needed their medication for it, even if they had been on medication for years.
"This was an 'aha' moment and we knew we needed to learn more," says Oswald. "We discovered that heartburn may be caused by bacteria in the esophagus, and that made sense. Ulcers are caused by bacteria too. We are still learning which bacteria may be the culprits. What we know now is that feeding the right bacteria can resolve microbiome imbalances and that may explain the change in symptoms. We are working diligently to scientifically show the connection."
Not only did the prebiotic nectar help improve people's digestive troubles, but they started to notice that it was helping them with weight management too, because it helped them better balance their food intake.
"It's good to be smart, and it's good to be lucky, and it's good to be in the right place at the right time. I'll take all three!" says Oswald. "We really needed to think about what we could do to get this product to the right people who need it."
As a result of everything they have learned about their product over the years, Oswald and his team are in the process of getting their prebiotic re-regulated by the Food and Drug Administration (FDA) as a medication.
"Moving from the consumer market to a medication is an intentional pivot on our part," says Oswald. "The medical community has been very welcoming—they recognize the need for this."
ISOThrive was one of the 2021 winners in the IGNITE grant program offered by Prince William County Department of Economic Development.
The IGNITE grant is allowing them the chance to explore how microorganisms in the GI tract could create natural antibiotics that can kill off unwanted bacteria. They are researching the potential for battling colon cancer with the support of these unique prebiotic molecules.
"We're having good results so far," says Oswald. "It's going to be super exciting to see if we can reproduce the results with outside collaborators."
ISOThrive was the first tenant of the Prince William County Science Accelerator and they will graduate into an expanded lab space at the brand-new Northern Virginia Bioscience Center when it opens in February of 2022. Their growth has also been complemented by the proximity to George Mason University and the access to students and post-graduate talent.

"Thanks to Dr. Madsen's affiliation with the university, we have great access to world class scientific collaborators and a well-educated workforce," says Oswald. "We believe it's mutually beneficial. We need smart young people, and we offer them challenging early career experience."
Expanding their intellectual property portfolio, ISOThrive was recently awarded a Composition of Matter and Production Method patent for their prebiotic for use as an animal feed and pet food supplement. ISOThrive's Farmaceutical™ is a parallel product that aims to improve animal health. It has been shown to be quite effective at protecting chickens from antibiotic resistant Salmonella while improving feed efficiency.
"We are excited about what's to come, and we want to continue to grow our footprint in Virginia," says Oswald.
---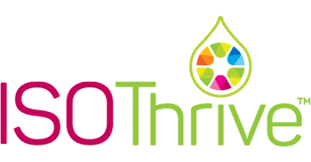 Website: Pharma.ISOThrive.com
Location: Prince William County Science Accelerator 11100 Endeavor Court Manassas, VA 20109