Denise and David Ormsby, owners and proprietors of The Spot on Mill Street in Occoquan, a popular community hangout "spot," are expanding by opening a second location in Belmont Bay.
After serving in the Army from 1984-1987, Denise Ormsby worked several jobs including working as a bartender. That's when she got the restaurant bug. Then, on Denise and David's first date 12 years ago, they discovered that they had a mutual desire to open a neighborhood hangout.
"Our dream was always to create a community hangout. We did that here in Occoquan, and it's amazing how fast that came together. Now we can't wait to create another spot in Belmont Bay," says Denise.
Creating a Community Spot
After working their respective jobs for several years, a friend of Denise, Joann Barney, who ran a small market and café called Tastefully Yours in Occoquan along with a retail shop, was ready to retire. She encouraged Denise and David to take over the market and café. They changed the name to The Spot on Mill Street, created a new menu, added seating on the front and back porch, hired staff, and their dream of creating a neighborhood hangout came true.
"We opened January 2, 2020," says David. "We hit the ground running. When COVID hit, we were able to step back and see what was working, so we could focus on exactly how we wanted to run the place."
Denise and David were still hiring people right up until lockdown, so when the pandemic forced them to shut down as a restaurant, they did not lay anyone off. Whoever wanted to work could work. That decision did not help their bottom line, but they felt it was the right thing to do.
Pivoting away from indoor dining, they ran The Spot on Mill Street as a convenience store during the lockdown, helping the community get products they needed. That helped strengthen their ties to the Occoquan community.
They also focused on the food they would serve when they could reopen. Now they and their staff of 13 are happy to be hosting diners once again. Business has been picking up steadily all year, but they look forward to being even busier as people become more comfortable with dining out again.
The Spot on Mill Street previously received small business grant assistance from the Prince William County Department of Economic Development.

Restore Retail grants are now available to Prince William County customer-facing small businesses that either own or lease their facility. Are you eligible? Learn more at princewilliamcounty.biz.
David and Denise pride themselves on providing a relaxed atmosphere with simple food and drinks. Their coffee is a house blend. They work with local dairy suppliers and bakeries to source the fresh, quality offerings. Their lunch and dinner options are created daily with the same attention to fresh and healthy options. They were voted Best Coffeehouse in Northern Virginia in 2020 and 2021 by Northern Virginia Magazine.
Putting a New Spot on the Map
A few of their customers at The Spot on Mill Street suggested to Denise and David that Belmont Bay in Woodbridge would be an ideal spot for them to open a second location.
"They told us we would be perfect for Belmont Bay," says Denise. "So we went and checked it out. We could really picture another great neighborhood hangout there."
They signed a multi-year lease, but building a place from scratch is proving to be a lengthy journey. Denise and David are working with Prince William County, submitting the required drawings and documents to secure approval. Ideally, they would like to open The Spot at Belmont Bay in time for the summer boating season of 2022.
The plan is to offer a neighborhood hangout with breakfast served all day, along with great flatbreads, some seafood options, and simple sandwiches. They also hope to have a bar on the premise, offering beer and wine. They want to also be able to offer picnic baskets and charcuterie boards to the boats coming and going from the marina.
They want to offer a QR code for each dock slip where they can put in their order, and staff will deliver it right to the boat. Delivery in the Belmont Bay neighborhood is also in the plans.
"We hire people based on their personality. That is the key to creating the kind of vibe where people want to hang out," says David. "One of the neighbors in Belmont Bay told us 'I have waited my whole life to be able to walk down somewhere, get the paper, and have a great cup of coffee. This will be perfect!'"
---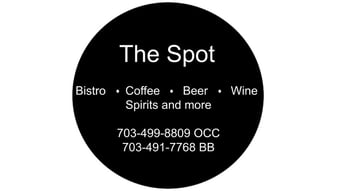 Website: www.thespotonmillstreet.com

Locations:
The Spot on Mill Street
406 Mill Street
Occoquan, VA 22193

The Spot at Belmont Bay (Coming Soon)
551 Harborside Drive
Woodbridge, VA 22191