Belmont Bay was the first place Niecia and AJ Bullock thought of for Rooted Yoga's home, but they were advised the studio might not be big enough and perhaps there wouldn't be enough foot traffic. "Two months later, I drove back to Belmont Bay, and as I did, I felt a warmth—a fire really—growing in my belly," says Niecia. "By the time I reached the marina area, I just knew that this was the place for us to be!"
The wife-husband team have grown Rooted Yoga into a vibrant yoga studio at 625 Harbor Side Street in Woodbridge that celebrates diversity, community, and practical self-care.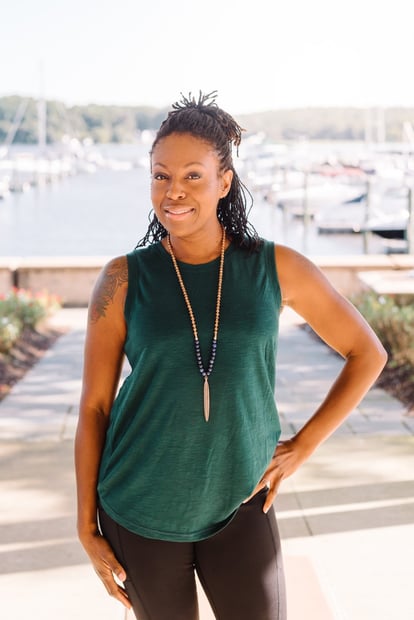 "I like to say that we are an anti-yoga studio," says Niecia. "We are here for the groups who feel marginalized and left out of the yoga experience and conversation. That was my experience as an African-American woman when I began practicing. I wanted Rooted Yoga to reflect the diversity of our world—bodies of color, fluffier bodies, older bodies. Admittedly, my original idea of diversity was short-sighted. Thankfully, I'm growing too."
Getting Fired Up
Shortly after opening Rooted Yoga in December 2020, AJ suggested that Niecia apply for the FireUp Program, a Prince William County Department of Economic Development business mentoring and coaching program that supports eligible small businesses by pairing them up with coaches and giving them one-on-one access to expertise in business strategy, marketing, and finance.
"We benefited from the resources the program afforded us, but the brand identity, financial, and marketing assistance were invaluable," says Niecia. "Value-wise, I rank it right up with what I learned from my bachelor and master degree programs."
They were able to apply what they learned immediately. Their one-on-one coach really helped them focus on who their audience is. Then they could figure out how to drive that market. "What's great about the program is that we didn't have to understand everything all at one time," says Niecia. "We can revisit the lessons, such as search engine optimization (SEO), for example, and focus on different areas as we need them."
From January to June 2021, the FireUp program, powered by Ureeka, worked with more than 80 Prince William County small business owners as well as business owners in City of Alexandria, Fairfax County, and Loudoun County.

Niecia was selected from the FireUp cohort to be one of the speakers at a co-sponsored Community Foundation Build Back, Dream Forward event on regional minority-owned business challenges and opportunities post-pandemic.
Healing and Sharing
Niecia's own yoga journey started five years ago. She started having seizures caused by anxiety. "I was always a go-go-go person, but it turns out that I didn't always listen to my body. The seizures forced me to start behaving differently. The first things my therapist prescribed were more yoga and consistent mindfulness meditation. I committed to the process and began to experience less anxiety, more peace, and a clearer head. I felt amazing, and I wanted to share what I learned," says Niecia.
Through practicing mindfulness and meditation, Niecia's body began to heal. She gained more mind-body awareness and started practicing the art of slowing down, although you wouldn't know it from her energetic manner and the enthusiasm that she shows for her business and for the practice of yoga.
"After the Trayvon Martin shooting, I was carrying so much grief. I was sad, hurt, and terrified. The leaders at my church and members of my homeschool community glossed over or completely ignored the incident. Neither community offered a safe space to grieve. But when I went to yoga class, the instructor opened class that day by acknowledging all that had happened and invited us to mourn. She supported me as I ugly sobbed my way through her class. What a gift!"
Niecia increased her personal practice, and then she decided to become certified as a yoga instructor. Through her 200 hours of training, she learned the value and importance of practicing unapologetic self-care.
AJ could see what a huge difference yoga was making in Niecia's life, so when she said that she wanted to open her own studio, he was right there with her. Together they started figuring out what to do.
They knew a few things from the beginning: They wanted the studio to be in Prince William County, because there are so few here. They wanted everyone to feel welcome. They wanted to offer yoga for all bodies. They wanted to make yoga accessible to everyone.
Growing Together
Opening during a pandemic certainly presented challenges. Niecia and AJ are especially proud that they didn't let COVID-19 stop them and that they were fortunate enough to purchase their space. "It is important to AJ and me that we teach our kids how to chase their dreams, how to fail and get back up, how to lead with love, and how to build generational wealth. The children in our family keep the adults very motivated!"
When they opened, they knew from their starting community that people were ready. People already knew a lot about practicing social distancing by then, so they could open their doors and start offering people a safe place to practice yoga.
Over the next few years, as Niecia and AJ move forward in their business, they'll be exploring how to grow. "We would like to consistently fill our classes here in this studio, but growth for us might also involve partnering with corporations or government to offer what we teach outside of the studio," says Niecia.
"We were forced to start small, but our community is a powerful light in Woodbridge."
---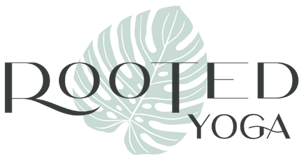 Website: www.rootedyogacommunity.com
Located at 625 Harbor Side Street, Woodbridge, VA 22191